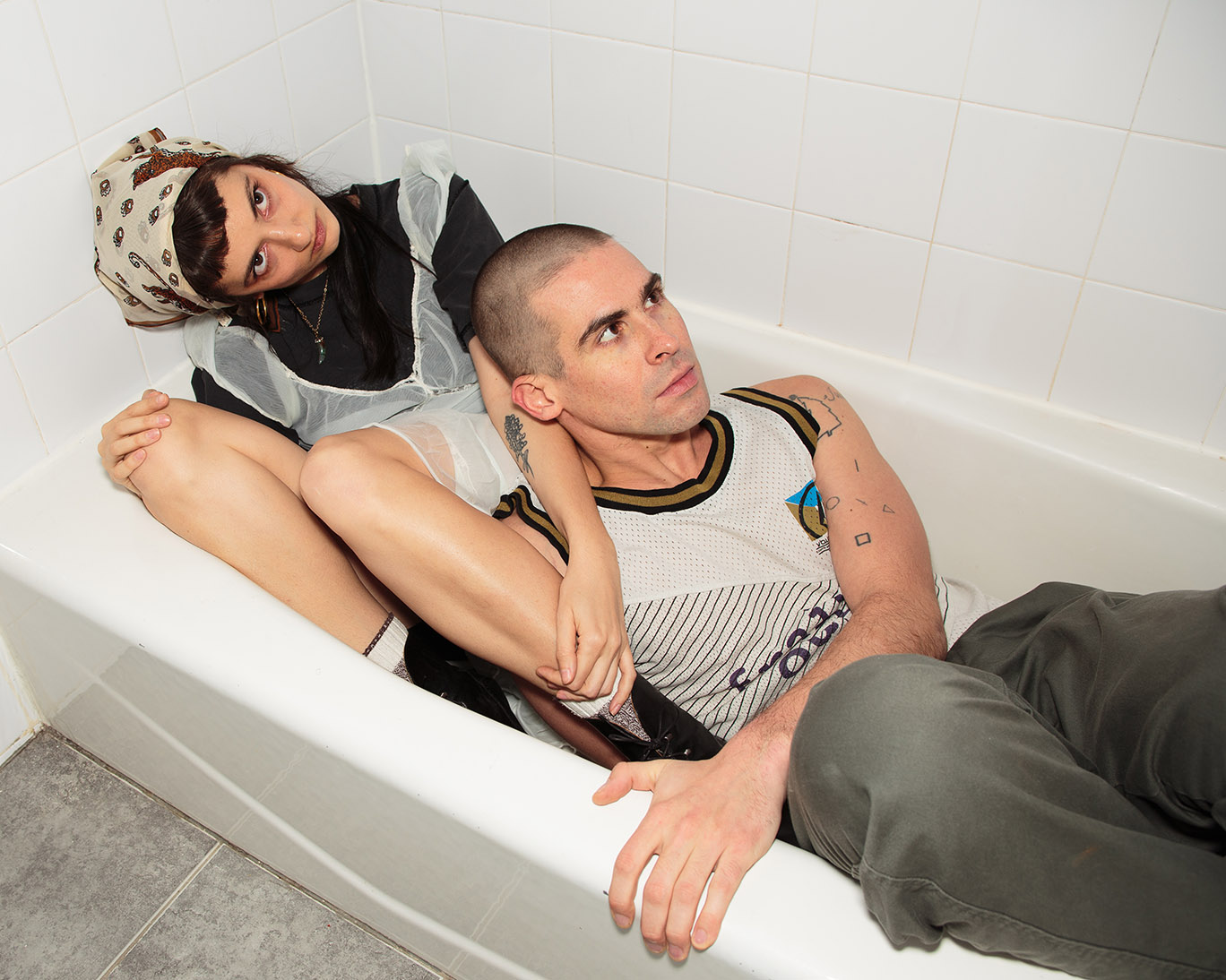 Beginn: 17:30
Einlaß: 16:30
– Sonntagnachmittagskonzert –
Since 2018, NYC's LEYA has occupied a space between many worlds, releasing work that equally encompasses beguiling Medieval song, modern folk, and their own classical-meets-pop language rooted in weird sensuality. The duo is anchored by harpist Marilu Donovan, who uses a unique tuning system designed for LEYA, while bandmate Adam Markiewicz blends operatic vocals in multiple languages with warm violin tones, centering on a sound that is instantly recognizable, otherworldly, and often uneasy. Their young catalog spans two albums, a collaborative-based mixtape, a porn, and a slew of other works.
In March 2022, LEYA released their broadest and most experimental project to date, the almost fully-collaborative mixtape, Eyeline (NNA Tapes). The tape brought together 9 artists – Actress, Julie Byrne, Eartheater, Okay Kaya, James K, claire rousay, Deli Girls, Sunk Heaven, and Martha Skye Murphy, each of whom co-wrote a track with LEYA, with the exception of Cunningham, who provided an 11 minute remix of the duo's only solo effort on the mixtape, "Dankworld." The tape exists squarely in LEYA's unique sound world, but stretches its confines greatly amongst many twists and turns. It channels pop environments previously untouched by the duo and also reaches more sinister caverns at points, hinging on an intensity that has been growing throughout the duo's career. It further broadens the possibilities, a sense that any direction that might be possible for a group continually pushing the boundaries of visceral song.
Hardtickets – Jenaer Bücherstube am Johannistor
Online-Tickets – www.TixforGigs.com
Eine Veranstaltung im Rahmen der Reihe "Musikalische Experimentierfelder", gefördert vom Musikfonds e.V. mit Projektmitteln der Beauftragten der Bundesregierung für Kultur und Medien.
An event as part of "Musikalische Experimentierfelder", funded by Musikfonds e.V. by means of the Federal Government Commissioner for Culture and the Media.