ICHI
+ Sonntagnachmittagsdizzkoplätzchen mit DJ ILJA GABLER & DJ LÉGÈRES
Ticket

›
VVK 10,-

/

AK 12,-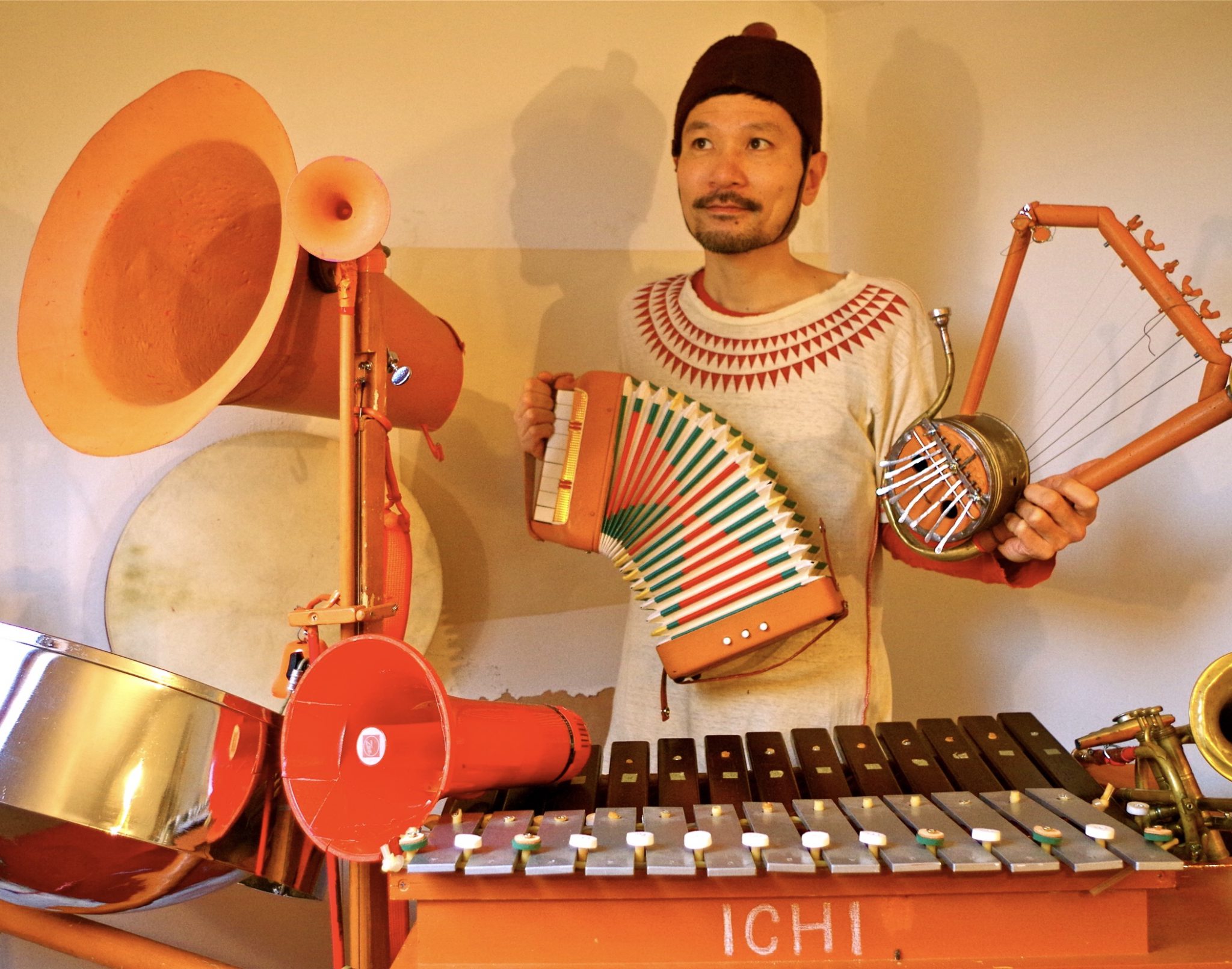 + Sonntagnachmittagsdizzkoplätzchen mit DJ ILJA GABLER & DJ LÉGÈRES
Hailing from Nagoya's underground scene, ICHI moved to the UK and Bristol after meeting English singer-songwriter Rachael Dadd, now his wife, at a small DIY festival in his hometown. He takes inspiration for his art from far and wide – a melting-pot of punk, reggae and dub, Henri Salvador, tribal music and old scratchy 78s. With his trusty sampler never far away ICHI spends hours poised, ready to capture the perfect water droplet or page flick, a process which he describes as being "like catching an animal". Recorded entirely onto a four-track tape machine in his attic studio, Maru finds ICHI layering Heath Robinson-esque song-scapes crafted out of found objects and bizarre homemade instruments (stilt-bass, kalilaphone, hatbox-pedal-drum, skip-xylophone and tapumpet) with vocals depicting colourful characters. The album features guest vocals from This Is The Kit frontwoman Kate Stables, his wife Rachael Dadd and Lost Map's own Rozi Plain.
ICHI's simple concepts and exuberant presentation have universal appeal and Maru's advance single 'Go Gagambo' has received airplay on BBC Radio 1, BBC 6 Music, XFM, Amazing Radio, Resonance FM And BBC Radio 3's Late Junction (for whom he performed three sets at the Latitude Festival last summer). Self-released on 7" vinyl, it's a clever blend of the familiar and the bizarre opening with a universally recognisable mosquito hum then proceeding with a catchy bassline reminiscent of early rock'n'roll strummed out on a long, thin insect-like instrument (the stilt-bass), with punk-like vocals that are small and high-pitched in the language of the insect itself. Other standouts on Maru include the deliriously enjoyable bilingual dance pastiche 'Hippo + 47', the humorous imagining of cars trading their horns for animal sounds '2 Klaxons' and the hypnotic '99', which is based on the Japanese times tables.
To see ICHI live is to witness something totally idiosyncratic and entirely new. It's fun, it's danceable, it's exciting. He takes the notion of a one-man band to new limits combining his handmade inventions with steel-drum, toysand everyday objects all in the space of one short set. There's an ancient, ritualistic feel to his performances – he's like the displaced leader of a lost tribe.
ICHI has toured extensively as a solo artist in Japan, the UK and Europe, playing at festivals including End of theRoad, Latitude, Glastonbury, Green Man, Wilderness, Boomtown, In the Woods, The Great Escape, Late at TheTate, Camp Bestival and Lost Map's Howlin' Fling. He has been championed by the likes of former Talking Heads' singer David Byrne and American noise-pop band Deerhoof, who invited him to play with them in NewYork, Japan and the UK. ICHI's supporters in the media include BBC 6 Music DJs Steve Lamacq, Gideon Coe, Don Letts, Tom Robinson and Lauren Laverne. In Japan he has performed alongside such artists as Asa-Chang and Junray, Shugo Tokumaru and Tenniscoats and has even seen an animated TV series based on his character broadcast on Japanese public-broadcaster NHK, as well as made various guest appearances on NHK.